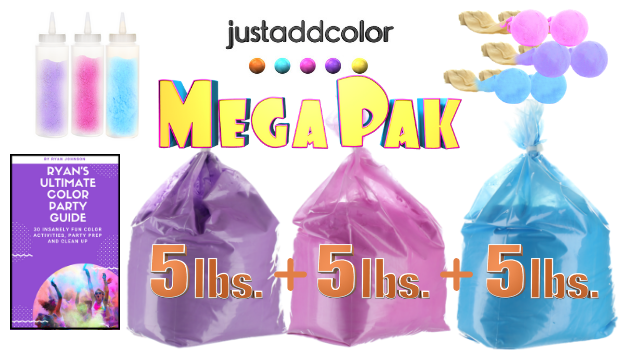 Just Add Color to your next Party! Your Next Outdoor Party Will Be 10x More Fun With Color! The Just Add Color Mega Pak includes everything you need to add colorful powder games, color dances, color crafts, color photos and color experiences to your next party.
Every party is more fun with color... birthday parties, half-birthday parties, church parties, team banquets, surprise parties, graduation parties, gender reveal parties to name a few.
Simply put, The Just Add Color Mega Pak gives you color, tools and a how-to guide to make your next party 10 Times More Fun.
Get One-Time-Only Discount, Two Color Blasters (For FREE), Money Back Guarantee and Shipping (For FREE) When You Purchase Your Just Add Color Mega Pak Right Now!
Was $150 Just $75!
I received complimentary product.
Cassandra's review- I am going to tell you that this is a huge mess and I mean big, it gets color on everything and in the air and on the grass and on the cars--so be careful where you throw your "party" . Is it fun? Yes. Is it hard to clean up? Mostly yes, but if you do this like in the woods or somewhere no one cares about getting mess all over, then you are only cleaning up yourself and everything you brought with you. So unless you cannot fathom being covered in color, this may be a huge party success. At first I had no idea why I was receiving bags of 5 lb cornstarch colored powder each, but after reading all about this and seeing the games that could be done with it, I would say that any children would have a ball, just be sure to supervise your kids because even though this is non-toxic, it really does get everywhere. I would probably only throw this party once in a lifetime, but more flexible people would probably do it way more often.